Wait, why buy a laser engraved protector?
Customization. You get the look of an engraved screen without any of the hassles of actually engraving your screen.
What's so great about an engraved screen?
Have a favorite motto, Bible verse, or inspirational quote? Keep it there, like a motivational quote for your phone. The smartphone screen is prime real estate, as you look at it many times a day.
Turn your plain phone into an eye-grabber for others. Show off your brand or company, or just your favorite sports team.
Worried about losing your phone, and its battery dying before its finders can figure out who it belongs to? Engraved screens are personalized and pretty great for keeping your phone separate from the otherwise identical dozens you might encounter in a day. You can engrave your name for a more basic personalization, or spruce it up with more flavored text.
Okay, why not just engrave my glass if it looks so great?
The plain answer is that engraving is actually quite expensive to do normally, and expensive in more ways than one. Glass engraving is a pricey option, and doing it also means sending in your phone or otherwise physically losing use of your phone while it's being shipped. For most of us, this is the opposite of convenient. Some locations may offer drop-in engraving on the spot, but you still have to drive your phone there.
Another price you pay is that the engraving is permanent. This means your phone is no longer stock, which, as with most product modifications, means it has lost value. When you're reselling your phone, this can add major depreciation and lower the phone's resale value. Paying money to lose money later is just a bad deal.
Adding a protector, on the other hand?
A fraction of the price of a glass engraving
Easily replaceable when you're looking for a new engraving, or removable when you're selling the phone
You can give this engraving as a surprise gift without stealing their phone to engrave it
You're adding protection to keep the screen looking scratch free and in perfect condition, preserving value rather than reducing it
Well, I like my phone screen naked. Wouldn't a glass engraving at least feel better?
Yes, if you engraved a plain, 5-pack-for-a-dollar protector, and then stuck it on your phone, you'd feel a difference. The touchscreen is your main interactive tool with your phone, and with a cheap protector, you get what you pay for.
Engraving one of our Crystal Oleophobic Protectors is an entirely different story.
Green Onions Oleophobic protectors have the same oil-repellent coating that goes into production of the best smartphones on the market. This gives you the oil-resistance, clarity, and perfect smoothness of a new phone screen. Adding our protectors to an old phone screen is actually a great way to revitalize a screen that's started to lose its original oleophobic coating.
To contrast this, many of the more affordable glass replacements on the market, the ones you go to when you accidentally shatter your phone? Their glass screens don't get the oleophobic treatment. So our protectors can end up feeling better even than your $80 replacement screens do.
That's the way we do things; we're not going to give you protection that makes a $700+ glass piece of the future feel like a $1 piece of junk made by the lowest bidder. We know you want and deserve better, and we deliver.
But is it hard to install? I don't trust my own skill.
No problem! Our protectors use a reusable dry glue, so you can install without worrying about permanent mistakes. Alignment issues are an easy fix, and dust can be quickly removed from the glue of the screen protector with a bit of know-how. You can see our quick installation guide here:
Wait, what about if my phone is white? Can you even see it?
Our plain engravings can be subtle depending on the phone they're installed on. To increase contrast, you can easily use an oil-based paint or marker to fill the engraving with your desired color.
This DIY option gives another level of personalization. Thanks to the Oleophobic Protector foundation, oil-based ink easily wipes off the areas around the engraving, but not the carved parts, allowing for quick and easy coloring. A bit of rubbing alcohol on a tissue dissolves oil-based markers, so the paint-job can be easily cleaned out when you want to try something new or return the engraving to its normal look.
How to order your engraving:
Add an eligible screen protector model to the shopping cart. Make sure that you add the item that specifically states that it includes the optional engraving.
Then, please write your desired engraving text or name in the "Additional Information" section of the shopping cart during your checkout, in addition to indicating your desired text position if that choice is available for that model (specific model information below). There will be a section set aside specifically asking for this information under the question: "If you ordered an Engraved Screen Protector, enter the engraving information here:". Failure to do so may cause some delays in order for us to establish contact with you. A continued lack of response may result in the order being temporarily held or canceled, so please provide accurate contact information.
You can enter the engraving information in the format below.
Engraving Request
Line 1: "Quote one"
Line 2: "Quote two"
Line 3: "Quote three"
Position: Lower left
If ordering multiple engraved protectors, please note that each order of an engraved screen protector will currently apply the same quote to both protectors in a two-pack, rather than offering a different quote on each.
Also, if applicable, please note which of the protectors you are requesting each engraving for. For example, if a couple were ordering 2 two-packs, one for each of their phones, the full comment would be:
Engraving Request for iPhone 5 Screen Protector
Line 1: "Jane Doe's"
Line 2: "iPhone 5"
Position: Lower left
Engraving Request for Samsung Galaxy S5 Screen Protector
Line 1: "John Doe's"
Line 2: "Galaxy S5"
Position: Lower right
Character limits: fifteen characters per line, with 3 lines maximum. Spaces and punctuation count towards the limit.
Text placement and position is dependent on the phone model.
Please take care when double-checking your spelling. The protector will be printed with exactly the spelling provided, and laser engraving is a permanent procedure.
The engraving font and all allowed characters are displayed below (other than a standard space):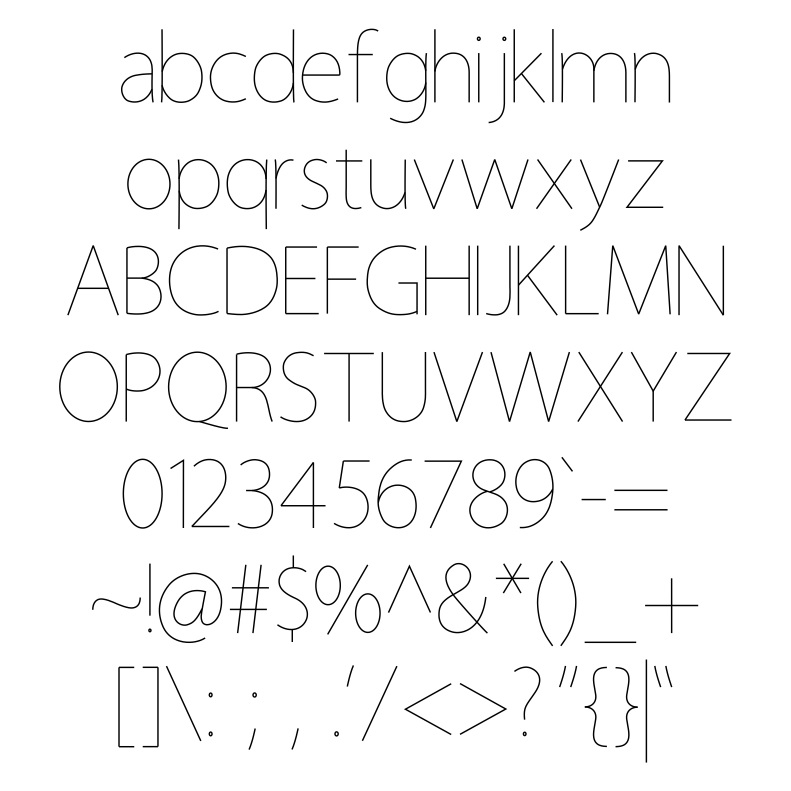 In short, the allowed characters include all standard ASCII characters displayed on a keyboard.
Examples of engraved names, phrases, ascii art: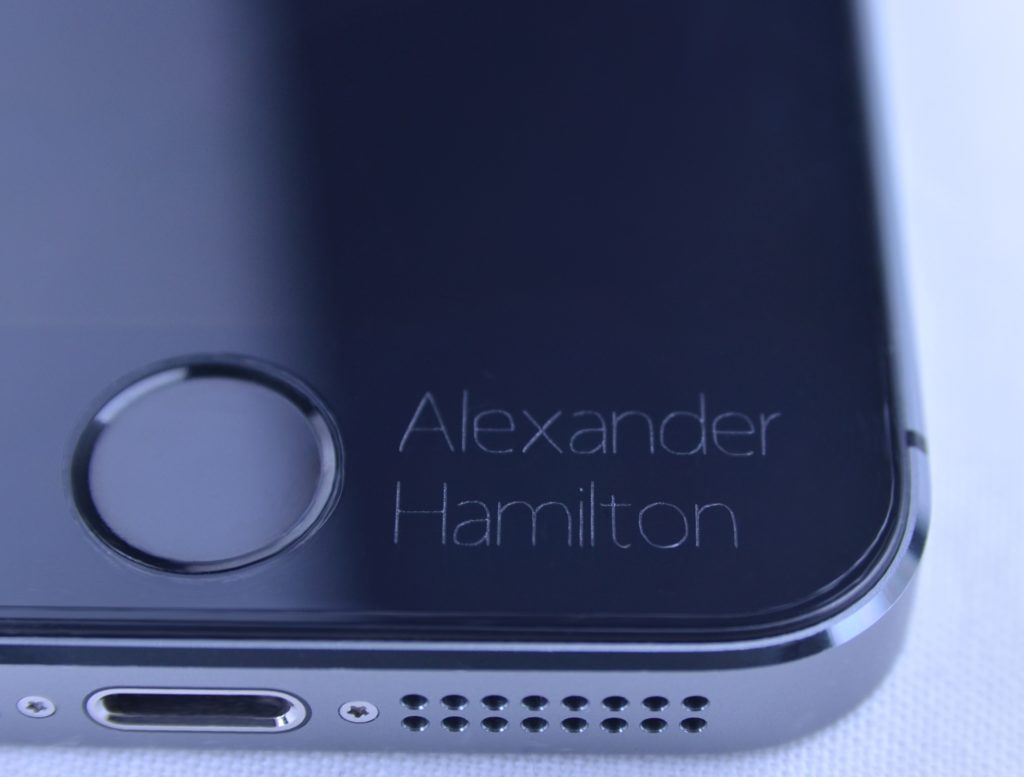 A normal two-line name engraving on the bottom-right of the iPhone 5S.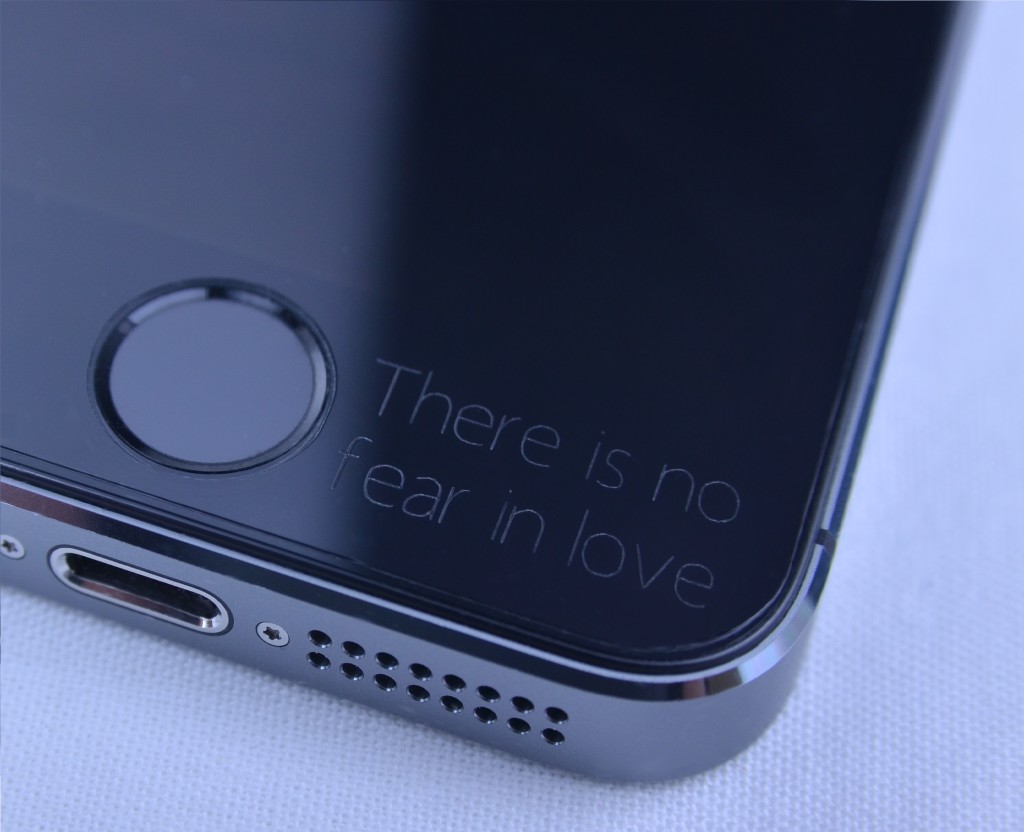 This is a two-line quote engraving on the bottom-right of the iPhone 5S.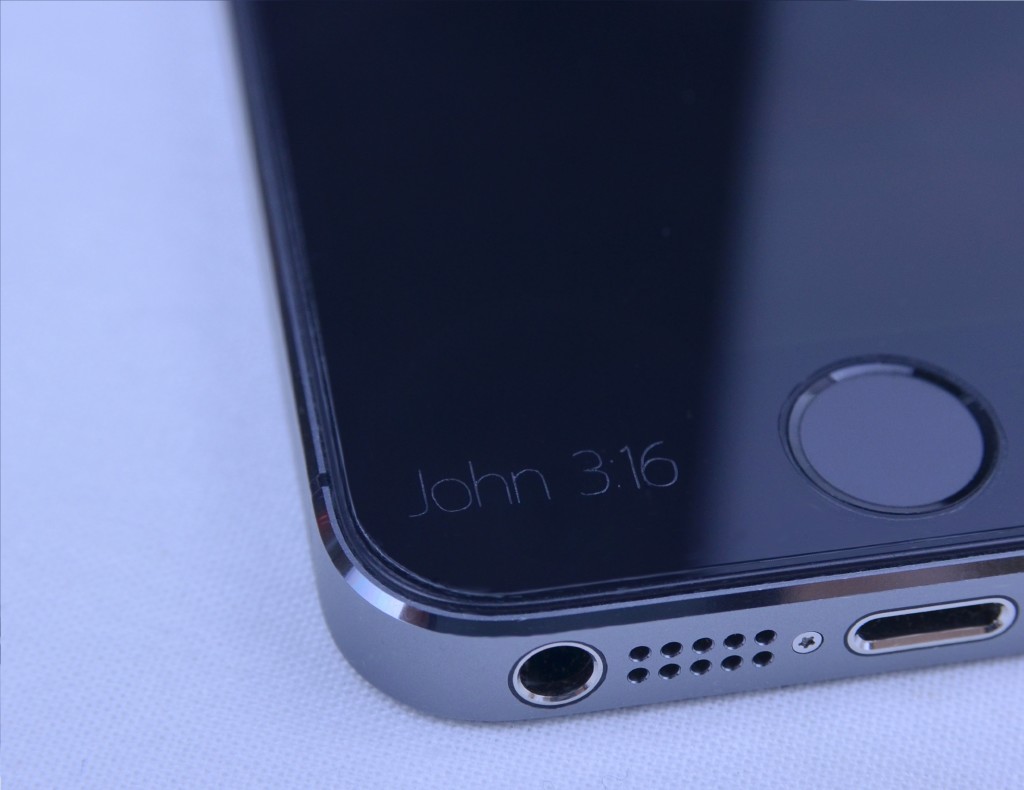 This image shows a single-line verse reference engraved on the iPhone 5S.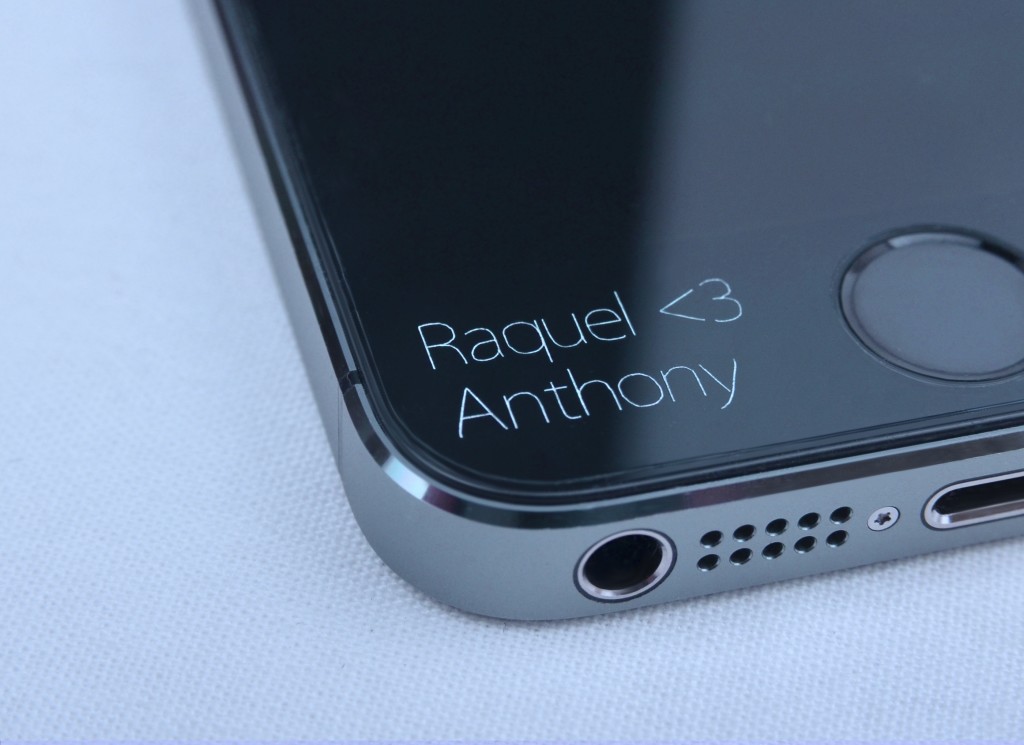 This engraving has been color-filled with paint, which can increase the contrast of the engraving. This is an easy DIY way to further increase the personalization of your phone, and may be recommended when using engraved protectors on white or lighter colored phones.
Additional Rules and Restrictions
Green Onions reserves the right to refuse to sell and/or produce offensive or inappropriate engravings at its own discretion. Trademarks and other legally protected terms may be subject to rejection.
Green Onions disclaims any liability for illegal or improper use of these products, or other attempts to abuse this service.
Rejected, over-limit, and other problematic engraving attempts will be rejected and require resubmission for purchase.
Engraved screen protectors are custom items, and thus subject to a more limited return and replacement policy than standard protectors. These engraved protectors cannot be fully refunded, even if left unopened, as the service has been provided and the customized items cannot be resold. The replacement policy is still in effect for these protectors showing defects from shipping or manufacturing.